Nissan Murano: NISSAN Intelligent Key® / How to use the remote keyless entry function
The remote keyless entry function can operate all door locks using the remote keyless function of the Intelligent Key. The remote keyless function can operate at a distance of 33 ft (10 m) away from the vehicle. The operating distance depends upon the conditions around the vehicle.
The remote keyless entry function will not function under the following conditions:
Whenthe Intelligent Key is not within the operational range.
When the Intelligent Key battery is discharged.
CAUTION
When locking the doors using the IntelligentKey, be sure not to leave the key in the vehicle.
Categories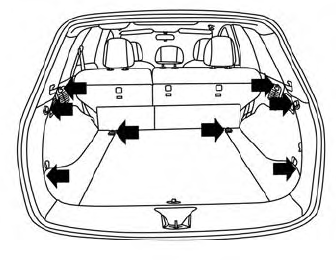 When securing items using luggage hooks located on the back of the seat or side finisher do not apply a load over more than 6.5 lbs. (29 N) to a single hook.
The luggage hooks that are located on the floor should have loads less than 110 lbs. (490 N) to a single hook.
Copyright © 2023 www.nimurano.com