Nissan Murano: Storage / Luggage hooks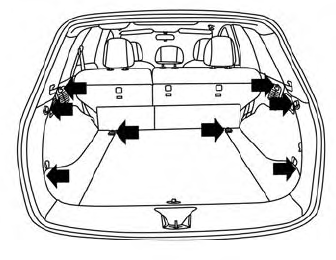 When securing items using luggage hooks located on the back of the seat or side finisher do not apply a load over more than 6.5 lbs. (29 N) to a single hook.
The luggage hooks that are located on the floor should have loads less than 110 lbs. (490 N) to a single hook.
The luggage hooks can be used to secure cargo with ropes or other types of straps.
WARNING
Properly secure all cargo with ropes or straps to help prevent it from sliding or shifting. Do not place cargo higher than the seatbacks. In a sudden stop or collision, unsecured cargo could cause personal injury.
Use suitable ropes and hooks to secure cargo.
Never allow anyone to ride in the luggage area. It is extremely dangerous to ride in a cargo area inside of a vehicle. In a collision, people riding in these areas are more likely to be seriously injured or killed.
Do not allow people to ride in any area of your vehicle that is not equipped with seats and seat belts.
The child restraint top tether strap may be damaged by contact with items in the cargo area. Secure any items in the cargo area. Your child could be seriously injured or killed in a collision if the top tether strap is damaged.
Be sure everyone in your vehicle is in a seat and using a seat belt properly.
Do not apply any load directly to the roof side rails. Cross bars must be installed before applying load/cargo/luggage to the roof of the vehicle. Genuine NISSAN accessory cross bars are available through a NISSAN dealer...
Other information:
Press the front defroster button on. The indicator light on the button will come on. Turn the temperature control dial to set the maximum temperature to aid in defrosting or defogging. To quickly remove ice from the outside of the windows, use the fan speed control buttons to set the fan speed to maximum...
Lane Departure Warning (LDW) indicator (orange/green) Dynamic driver assistance switch The I-LI system operates above approximately 37 mph (60 km/h). When the vehicle approaches either the left or the right side of the traveling lane, the steering wheel will vibrate and the LDW indicator (orange) on the instrument panel will blink to alert the driver...