Nissan Murano: Starting and driving / Intelligent Lane Intervention (I-LI) (if so equipped)
WARNING
Failure to follow the warnings and instructions for proper use of the I-LI system could result in serious injury or death.
The I-LI system will not steer the vehicle or prevent loss of control. It is the driver's responsibility to stay alert, drive safely, keep the vehicle in the traveling lane, and be in control of the vehicle at all times.
The I-LI system is primarily intended for use on well-developed freeways or highways. It may not detect the lane markers in certain road, weather, or driving conditions.
The I-LI system must be turned on with the dynamic driver assistance switch on the steering wheel, every time the ignition is placed in the ON position.
The I-LI system will operate when the vehicle is driven at speeds of approximately 37 mph (60 km/h) and above, and only when the lane markings are clearly visible on the road.
The I-LI system warns the driver when the vehicle has left the center of the traveling lane with an indicator and a steering wheel vibration. The system helps assist the driver to return the vehicle to the center of the traveling lane by applying the brakes to the left or right wheels individually (for a short period of time).
The I-LI system monitors the lane markers on the traveling lane using the camera unit

located above the inside mirror.
Categories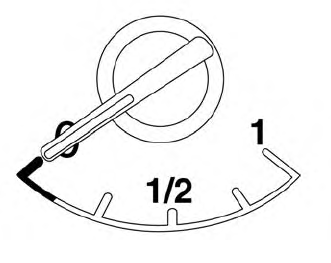 The gauge indicates the approximate fuel level in the tank.
The gauge may move slightly during braking, turning, acceleration, or going up or down hills.
The gauge needle returns to 0 (Empty) after the ignition switch is placed in the OFF position.