Nissan Murano: Lane Departure Warning (LDW) (if so equipped) / System maintenance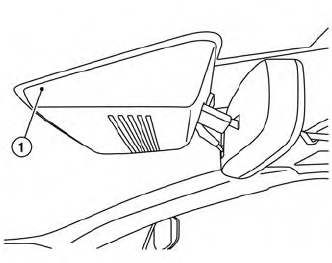 The lane camera unit
for the LDW system is located above the inside mirror. To keep the proper operation of the LDW system and prevent a system malfunction, be sure to observe the following:
Always keep the windshield clean.
Do not attach a sticker (including transparent material) or install an accessory near the camera unit.
Do not place reflective materials, such as white paper or a mirror,on the instrument panel. The reflection of sunlight may adversely affect the camera unit's capability of detecting the lane markers.
Do not strike or damage the areas around the camera unit. Do not touch the camera lens or remove the screw located on the camera unit. If the camera unit is damaged due to an accident, it is recommended that you visit a NISSAN dealer.
Categories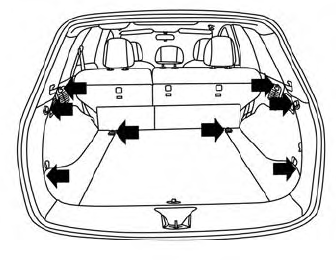 When securing items using luggage hooks located on the back of the seat or side finisher do not apply a load over more than 6.5 lbs. (29 N) to a single hook.
The luggage hooks that are located on the floor should have loads less than 110 lbs. (490 N) to a single hook.
Copyright © 2023 www.nimurano.com