Nissan Murano: Headlight and turn signal switch / Headlight control switch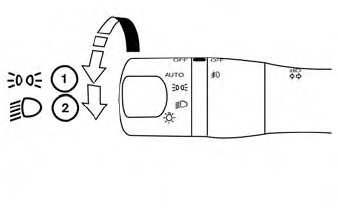 Type A (if so equipped)
Lighting

Rotate the switch to the

position, and the front parking, tail, and license plate lights will come on.

Rotate the switch to the

position, and the headlights will come on and all the other lights remain on.
Type B (if so equipped)
CAUTION
Use the headlights with the engine running to avoid discharging the vehicle battery.
The autolight system allows the headlights to turn on and off automatically. The autolight system can: Turn on the headlights, front parking, tail, license plate and instrument panel lights automatically when it is dark...
Other information:
Drive belt*: Check engine drive belt for wear, fraying or cracking and for proper tension. Replace any damaged drive belt. Engine air filter: Replace at specified intervals. When driving for prolonged periods in dusty conditions, check/replace the filter more frequently...
WARNING Do not stop or park the vehicle over flammable materials such as dry grass, waste paper or rags. They may ignite and cause a fire. Safe parking procedures require that both the parking brake be set and the transmission placed intoP(Park)...
Categories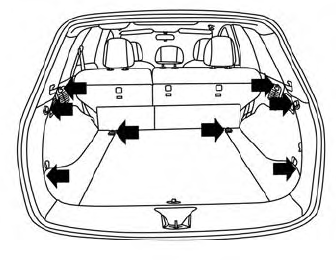 When securing items using luggage hooks located on the back of the seat or side finisher do not apply a load over more than 6.5 lbs. (29 N) to a single hook.
The luggage hooks that are located on the floor should have loads less than 110 lbs. (490 N) to a single hook.