Nissan Murano: Engine oil / Checking engine oil level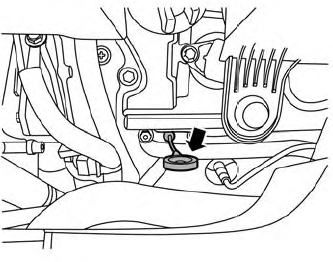 Park the vehicle on a level surface and apply the parking brake.
Start the engine and let it idle until it reaches operating temperature.
Turn off the engine. Wait more than 10 minutes for the oil to drain back into the oil pan.
Remove the dipstick and wipe it clean. Reinsert it all the way.
Remove the dipstick again and check the oil level. It should be between the H (High) and L (Low) marks . This is the normal operating oil level range. If the oil level is below the L (Low) mark , remove the oil filler cap and pour recommended oil through the opening. Do not overfill .
Recheck oil level with the dipstick.
It is normal to add some oil between oil maintenance intervals or during the break-in period,dependingonthe severity of operating conditions.
CAUTION
Oil level should be checked regularly. Operating the engine with an insufficient amount of oil can damage the engine, and such damage is not covered by warranty.
Other information:
WARNING Radio waves could adversely affect electric medical equipment. Those who use a pacemaker should contact the electric medical equipment manufacturer for the possible influences before use. This vehicle is equipped with the Tire Pressure Monitoring System (TPMS)...
A chime sounds under the following conditions and the control is automatically canceled: When the vehicle slows down more than 8 mph (13 km/h) below the set speed Whenthe shift lever is not in theD(Drive) or manual shift mode When the parking brake is applied When the VDC operates (including the traction control system) When a wheel slips When the system is not operating properly, the chime sounds and the color of the cruise indicator will change to orange...
Categories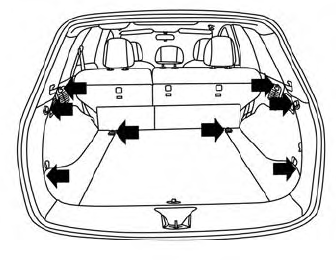 When securing items using luggage hooks located on the back of the seat or side finisher do not apply a load over more than 6.5 lbs. (29 N) to a single hook.
The luggage hooks that are located on the floor should have loads less than 110 lbs. (490 N) to a single hook.
Copyright © 2022 www.nimurano.com