Nissan Murano: Engine oil / Checking engine oil level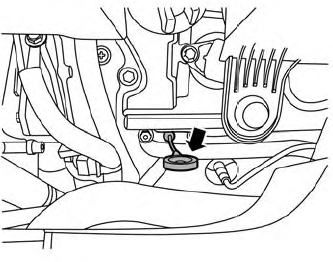 Park the vehicle on a level surface and apply the parking brake.
Start the engine and let it idle until it reaches operating temperature.
Turn off the engine. Wait more than 10 minutes for the oil to drain back into the oil pan.
Remove the dipstick and wipe it clean. Reinsert it all the way.
Remove the dipstick again and check the oil level. It should be between the H (High) and L (Low) marks . This is the normal operating oil level range. If the oil level is below the L (Low) mark , remove the oil filler cap and pour recommended oil through the opening. Do not overfill .
Recheck oil level with the dipstick.
It is normal to add some oil between oil maintenance intervals or during the break-in period,dependingonthe severity of operating conditions.
CAUTION
Oil level should be checked regularly. Operating the engine with an insufficient amount of oil can damage the engine, and such damage is not covered by warranty.
Other information:
Lane Departure Warning (LDW) indicator The LDWsystem provides a lane departure warning function when the vehicle is driven at speeds of approximately 37 mph (60 km/h) and above and the lane markings are clear. When the vehicle approaches either the left or the right side of the traveling lane, the steering wheel will vibrate and the LDW indicator on the instrument panel will blink to alert the driver...
If the battery is labeled "do not open" it is maintenance free and battery fluid should not be checked. It is recommended that you visit a NISSAN dealer or a qualified specialist workshop to confirm the battery's performance. Keep the battery surface clean and dry...
Categories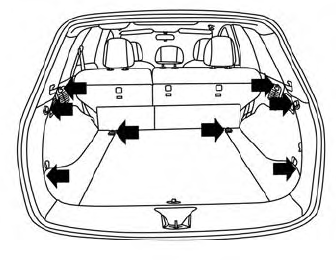 When securing items using luggage hooks located on the back of the seat or side finisher do not apply a load over more than 6.5 lbs. (29 N) to a single hook.
The luggage hooks that are located on the floor should have loads less than 110 lbs. (490 N) to a single hook.
Copyright © 2023 www.nimurano.com