Nissan Murano: Seats / Rear bench seat adjustment
Reclining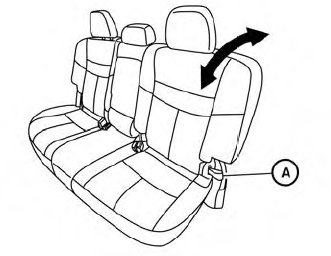 Pull the reclining strap

and position the seatback at the desired angle. Release the reclining strap after positioning the seat at the desired angle.
The reclining feature allows adjustment of the seatback for occupants of different sizes to help obtain proper seat belt fit. For additional information, refer to "Precautions on seat belt usage" in this section.The seatback may also be reclined to allow occupants to rest when the vehicle is parked.
WARNING
After adjustment, check to be sure the seat is securely locked.
Do not ride in a moving vehicle when the seatback is reclined. This can be dangerous. The shoulder belt will not be against your body. In an accident, you could be thrown into it and receive neck or other serious injuries. You could also slide under the lap belt and receive serious internal injuries.
For the most effective protection when the vehicle is in motion, the seat should be upright. Always sit well back and upright in the seat with both feet on the floor and adjust the seat belt properly. For additional information, refer to "Precautions on seat belt usage" in this section.
Operating tips The power seat motor has an autoreset overload protection circuit. If the motor stops during operation, wait 30 seconds then reactivate the switch...
The rear bench center armrest is locked in the up position. To lower the armrest, pull the armrest down as shown. To return the armrest to the up position, push up on the armrest until it is in the full up position...
Other information:
To loosen the bolt, turn counterclockwise. Once free, remove the bolt. Place the sub-woofer in the lower left corner of the cargo area, leaning against the driver side wall. Remove the spare tire. Once the flat tire is exchanged with the spare tire, store the flat tire where the spare was located...
..