Nissan Murano: Seats / Armrests
The rear bench center armrest is locked in the up position. To lower the armrest, pull the armrest down as shown.
To return the armrest to the up position, push up on the armrest until it is in the full up position.
Categories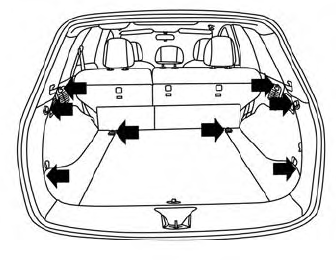 When securing items using luggage hooks located on the back of the seat or side finisher do not apply a load over more than 6.5 lbs. (29 N) to a single hook.
The luggage hooks that are located on the floor should have loads less than 110 lbs. (490 N) to a single hook.
Copyright © 2023 www.nimurano.com