Nissan Murano: Automatic operation / Heating (A/C OFF)
The air conditioner does not activate.When you need to heat only, use this mode.
Press the AUTO button.
Turn the temperature control dial to set the desired temperature.

The temperature of the passenger compartment will be maintained automatically. Air flow distribution and fan speed are also controlled automatically.
Do not set the temperature lower than the outside air temperature. Otherwise, the system may not work properly.
Not recommended if windows fog up.
Categories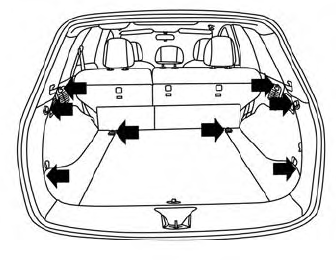 When securing items using luggage hooks located on the back of the seat or side finisher do not apply a load over more than 6.5 lbs. (29 N) to a single hook.
The luggage hooks that are located on the floor should have loads less than 110 lbs. (490 N) to a single hook.
Copyright © 2023 www.nimurano.com