Nissan Murano: In case of emergency / Towing your vehicle
When towing your vehicle, all jurisdictional and local regulations for towing must be followed. Incorrect towing equipment could damage your vehicle. Towing instructions are available from a NISSAN dealer. Local service operators are generally familiar with the applicable laws and procedures for towing. To assure proper towing and to prevent accidental damage to your vehicle, NISSAN recommends having a service operator tow your vehicle. It is advisable to have the service operator carefully read the following precautions:
WARNING
Never ride in a vehicle that is being towed.
Never get under your vehicle after it has been lifted by a tow truck.
CAUTION
When towing, make sure that the transmission, axles, steering system and powertrain are in working condition. If any of these conditions apply, dollies or a flatbed tow truck must be used.
Always attach safety chains before towing.
For additional information, refer to "Flat towing for all-wheel drive vehicle" in the "Technical and consumer information" section of this manual.
Categories
Unfastening the seat belts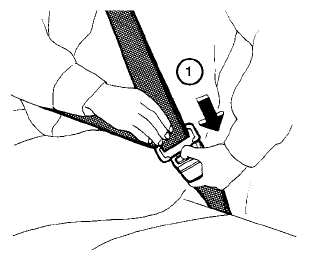 To unfasten the seat belt, press the button on the buckle

. The seat belt automatically retracts.
Copyright © 2023 www.nimurano.com