Nissan Murano: Towing your vehicle / Vehicle recovery (freeing a stuck vehicle).
WARNING
To avoid vehicle damage, serious personal injury or death when recovering a stuck vehicle:
Contact a professional towing service to recover the vehicle if you have any questions regarding the recovery procedure.
Tow chains or cables must be attached only to main structural members of the vehicle.
Do not use the vehicle tie-downs to tow or free a stuck vehicle.
Only use devices specifically designed for vehicle recovery and follow the manufacturer's instructions.
Always pull the recovery device straight out from the front of the vehicle. Never pull at an angle.
Route recovery devices so they do not touch any part of the vehicle except the attachment point.
If your vehicle is stuck in sand, snow, mud, etc., use a tow strap or other device designed specifically for vehicle recovery. Always follow the manufacturer's instructions for the recovery device.
Rocking a stuck vehicle
WARNING
Stand clear of a stuck vehicle.
Do not spin your tires at high speed. This could cause them to explode and result in serious injury. Parts of your vehicle could also overheat and be damaged.
If your vehicle is stuck in sand, snow, mud, etc., use the following procedure:
Turn off the Vehicle Dynamic Control (VDC) system.
Make sure the area in front and behind the vehicle is clear of obstructions.
Turn the steering wheel right and left to clear an area around the front tires.

Slowly rock the vehicle forward and backward.
Shift back and forth between R (Reverse) and D (Drive).
Apply the accelerator as little as possible to maintain the rocking motion.
Release the accelerator pedal before shifting between R (Reverse) and D (Drive).
Do not spin the tires above 35 mph (55 km/h).

If the vehicle cannot be freed after a few tries, contact a professional towing service to remove the vehicle.
NISSAN recommends that your vehicle be towed with the driving (front) wheels off the ground or place the vehicle on a flatbed truck as illustrated...
Other information:
WARNING Failure to follow the warnings and instructions for proper use of the I-FCW system could result in serious injury or death. The I-FCW system can help warn the driver before a collision occurs but will not avoid a collision. It is the driver's responsibility to stay alert, drive safely and be in control of the vehicle at all times...
Abbreviations: I = Inspect and correct or replace as necessary, R = Replace, NOTE: Maintenance items with " " should be performed more frequently according to "Maintenance under severe driving conditions". (1) If towing a trailer, using a camper or a car-top carrier or driving on rough or muddy roads, inspect CVT fluid deterioration every 60,000 miles (96,000 km), then change CVT fluid if necessary...
Categories
Driver's side
The knee air bag is located in the knee bolster, on the driver's and passenger's side. All of the information, cautions and warnings in this manual apply and must be followed. The knee air bag is designed to inflate in higher severity frontal collisions, although it may inflate if the forces in another type of collision are similar to those of a higher severity frontal impact. It may not inflate in certain collisions.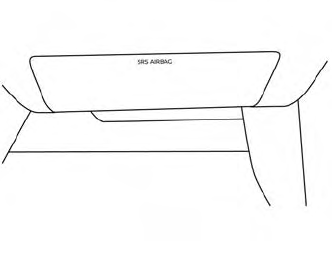 Passenger's side