Nissan Murano: Starting and driving / Precautions when starting and driving
WARNING
Do not leave children or adults who would normally require the assistance of others alone in your vehicle. Pets should also not be left alone. They could accidentally injure themselves or others through inadvertent operation of the vehicle. Also, on hot, sunny days, temperatures in a closed vehicle could quickly become high enough to cause severe or possibly fatal injuries to people or animals.
Properly secure all cargo with ropes or straps to help prevent it from sliding or shifting. Do not place cargo higher than the seatbacks. In a sudden stop or collision, unsecured cargo could cause personal injury.
Exceeding the roof rack capacity can change the vehicle's center of gravity and adversely affect the handling and stability of the vehicle resulting in an accident causing death or serious injury.
WARNING Do not breathe exhaust gases; they contain colorless and odorless carbon monoxide. Carbon monoxide is dangerous. It can cause unconsciousness or death...
Other information:
The air conditioner system in your NISSANvehiclemustbe charged with the refrigerant HFC-134a (R-134a) and NISSAN A/C System Oil Type ND-OIL8 or the exact equivalents. CAUTION The use of any other refrigerant or oil will cause severedamageto the air conditioning system and will require the replacement of all air conditioner system components...
Remove the valve stem cap from the tire. Press the pressure gauge squarely onto the valve stem. Do not press too hard or force the valve stem sideways, or air will escape. If the hissing sound of air escaping from the tire is heard while checking the pressure, reposition the gauge to eliminate this leakage...
Categories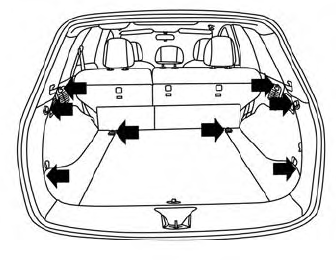 When securing items using luggage hooks located on the back of the seat or side finisher do not apply a load over more than 6.5 lbs. (29 N) to a single hook.
The luggage hooks that are located on the floor should have loads less than 110 lbs. (490 N) to a single hook.
Copyright © 2023 www.nimurano.com