Nissan Murano: Changing a flat tire / Stopping the vehicle
Safelymove the vehicle off the road and away from traffic.
Turn on the hazard warning flashers.
Park on a level surface and apply the parking brake. Move the shift lever to P (Park).
Turn off the engine.
Raise the hood to warn other traffic and to signal professional road assistance personnel that you need assistance.
Have all passengers get out of the vehicle and stand in a safe place, away from traffic and clear of the vehicle.
WARNING
Make sure the parking brake is securely applied and the shift lever is shifted into P (Park).
Never change tires when the vehicle is on a slope, ice or slippery areas. This is hazardous.
Never change tires if oncoming traffic is close to your vehicle. Wait for professional road assistance.
A. Blocks
B. Flat tire
Place suitable blocks at both the front and back of the wheel diagonally opposite the flat tire to prevent the vehicle from moving when it is jacked up...
Other information:
Condition A: The warning and assist functions of the I-LI system are not designed to work under the following conditions: When you operate the lane change signal and change the traveling lanes in the direction of the signal. (The I-LI system will be deactivated for approximately 2 seconds after the lane change signal is turned off...
Temperature control dial (driver's side)/AUTO button ON-OFF button Display screen MODE (manual air flow control) button Temperature control dial (passenger's side)/DUAL button Fresh air intake button Air recirculation button A/C (air conditioner) button fan speed control buttons REAR window and outside mirror (if so equipped) defroster switch FRONT (defroster) button WARNING The air conditioner cooling function operates only when the engine is running...
Categories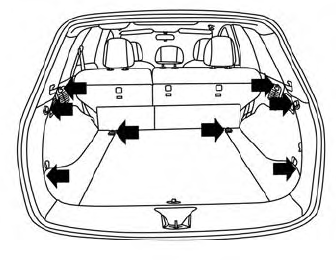 When securing items using luggage hooks located on the back of the seat or side finisher do not apply a load over more than 6.5 lbs. (29 N) to a single hook.
The luggage hooks that are located on the floor should have loads less than 110 lbs. (490 N) to a single hook.
Copyright © 2023 www.nimurano.com