Nissan Murano: Changing a flat tire / Stopping the vehicle
Safelymove the vehicle off the road and away from traffic.
Turn on the hazard warning flashers.
Park on a level surface and apply the parking brake. Move the shift lever to P (Park).
Turn off the engine.
Raise the hood to warn other traffic and to signal professional road assistance personnel that you need assistance.
Have all passengers get out of the vehicle and stand in a safe place, away from traffic and clear of the vehicle.
WARNING
Make sure the parking brake is securely applied and the shift lever is shifted into P (Park).
Never change tires when the vehicle is on a slope, ice or slippery areas. This is hazardous.
Never change tires if oncoming traffic is close to your vehicle. Wait for professional road assistance.
A. Blocks
B. Flat tire
Place suitable blocks at both the front and back of the wheel diagonally opposite the flat tire to prevent the vehicle from moving when it is jacked up...
Other information:
WARNING Every person who drives or rides in this vehicle should use a seat belt at all times. Children should be in the rear seats and in an appropriate restraint. Do not ride in a moving vehicle when the seatback is reclined. This can be dangerous...
The displayed guidelines and their locations on the ground are for approximate reference only. Objects on uphill or downhill surfaces or projecting objects will be actually located at distances different from those displayed in the monitor relative to the guidelines (refer to illustrations)...
Categories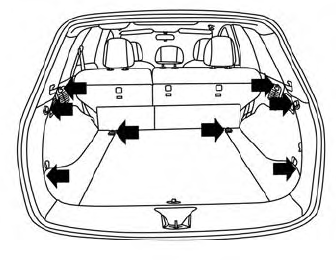 When securing items using luggage hooks located on the back of the seat or side finisher do not apply a load over more than 6.5 lbs. (29 N) to a single hook.
The luggage hooks that are located on the floor should have loads less than 110 lbs. (490 N) to a single hook.
Copyright © 2022 www.nimurano.com