Nissan Murano: Conventional (fixed speed) cruise control mode / Conventional (fixed speed) cruise control switches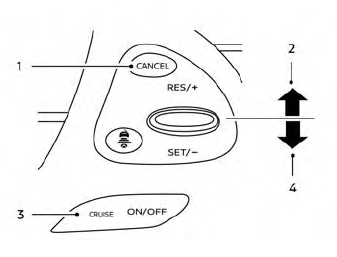 CANCEL switch: Deactivates the system without erasing the set speed
RES/+ switch: Resumes set speed or increases speed incrementally
CRUISE ON/OFF switch: Master switch to activate the system
SET/- switch: Sets desired cruise speed or reduces speed incrementally
This mode allows driving at a speed between 25 to 90 mph (40 to 144 km/h) without keeping your foot on the accelerator pedal. WARNING In the conventional (fixed speed) cruise control mode, a warning chime does not sound to warn you if you are too close to the vehicle ahead, as neither the presence of the vehicle ahead nor the vehicle-to-vehicle distance is detected...
The display is located in the vehicle information display. Cruise indicator: This indicator indicates the condition of the ICC system depending on a color...
Other information:
WARNING The three-point seat belt with Automatic Locking Retractor (ALR) must be used when installing a child restraint. Failure to use the ALRmodewill result in the child restraint not being properly secured. The restraint could tip over or be loose and cause injury to a child in a sudden stop or collision...
..