Nissan Murano: Changing wheels and tires / Care of wheels
Wash the wheels when washing the vehicle to maintain their appearance.
Clean the inner side of the wheels when the wheel is changed or the underside of the vehicle is washed.
Do not use abrasive cleaners when washing the wheels.
Inspect wheel rims regularly for dents or corrosion. Such damage may cause loss of pressure or poor seal at the tire bead.
NISSAN recommends waxing the road wheels to protect against road salt in areas where it is used during winter.
Categories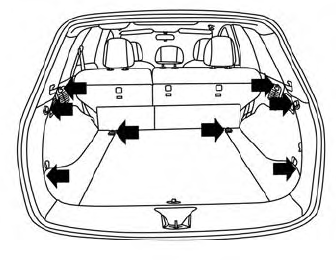 When securing items using luggage hooks located on the back of the seat or side finisher do not apply a load over more than 6.5 lbs. (29 N) to a single hook.
The luggage hooks that are located on the floor should have loads less than 110 lbs. (490 N) to a single hook.
Copyright © 2023 www.nimurano.com