Nissan Murano: RearView Monitor (if so equipped) / Adjusting the screen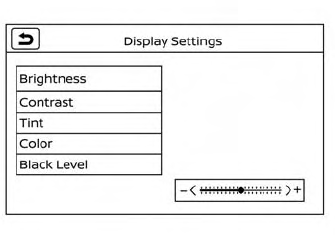 Press the CAMERA button.
Touch the "Display Settings" key.
Touch the "Brightness," "Contrast," "Tint," "Color," or "Black Level" key.
Adjust the item by touching the "+" or "–" key on the touch-screen display.
NOTE:
Do not adjust any of the display settings of the RearView Monitor while the vehicle is moving. Make sure the parking brake is firmly applied.
Categories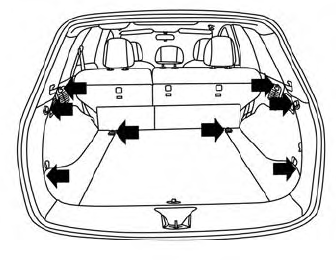 When securing items using luggage hooks located on the back of the seat or side finisher do not apply a load over more than 6.5 lbs. (29 N) to a single hook.
The luggage hooks that are located on the floor should have loads less than 110 lbs. (490 N) to a single hook.
Copyright © 2023 www.nimurano.com