Nissan Murano: Do-it-yourself / Windshield-washer fluid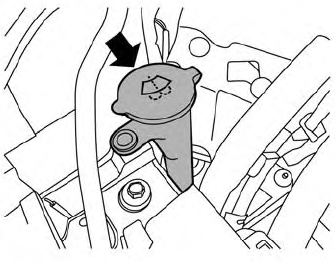 Fill the windshield-washer fluid reservoir periodically. Add windshield-washer fluid when the "Low Washer Fluid" warning message shows on the vehicle information display.
To fill the windshield-washer fluid reservoir, lift the cap off the reservoir and pour the windshield-washer fluid into the reservoir opening.
Add a washer solvent to the washer for better cleaning. In the winter season, add a windshieldwasher antifreeze. Follow the manufacturer's instructions for the mixture ratio.
Refill the reservoir more frequently when driving conditions require an increased amount of windshield-washer fluid.
Recommended fluid is Genuine NISSAN Windshield Washer Concentrate Cleaner & Anti-freeze or equivalent.
CAUTION
Do not substitute engine antifreeze coolant for windshield-washer fluid. This may result in damage to the paint.
Do not fill the windshield-washer fluid reservoir with washer fluid concentrates at full strength. Some methyl alcohol based washer fluid concentrates may permanently stain the grille if spilled while filling the windshield-washer fluid reservoir.
Pre-mix washer fluid concentrates with water to the manufacturer's recommended levels before pouring the fluid into the windshield-washer fluid reservoir. Do not use the windshieldwasher fluid reservoir to mix the washer fluid concentrate and water.
WARNING Use only new fluid from a sealed container. Old, inferior or contaminated fluid may damage the brake system. The use of improper fluids can damage the brake system and affect the vehicle's stopping ability...
If the battery is labeled "do not open" it is maintenance free and battery fluid should not be checked. It is recommended that you visit a NISSAN dealer or a qualified specialist workshop to confirm the battery's performance...
Other information:
This vehicle is equipped with an Event Data Recorder (EDR). The main purpose of an EDR is to record, in certain crash or near crash-like situations, such as an air bag deployment or hitting a road obstacle, data that will assist in understanding how a vehicle's systems performed...
..