Nissan Murano: Do-it-yourself / Windshield-washer fluid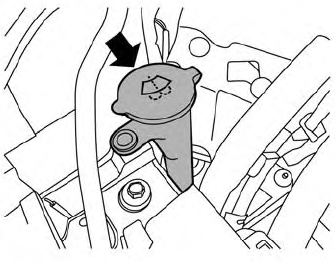 Fill the windshield-washer fluid reservoir periodically. Add windshield-washer fluid when the "Low Washer Fluid" warning message shows on the vehicle information display.
To fill the windshield-washer fluid reservoir, lift the cap off the reservoir and pour the windshield-washer fluid into the reservoir opening.
Add a washer solvent to the washer for better cleaning. In the winter season, add a windshieldwasher antifreeze. Follow the manufacturer's instructions for the mixture ratio.
Refill the reservoir more frequently when driving conditions require an increased amount of windshield-washer fluid.
Recommended fluid is Genuine NISSAN Windshield Washer Concentrate Cleaner & Anti-freeze or equivalent.
CAUTION
Do not substitute engine antifreeze coolant for windshield-washer fluid. This may result in damage to the paint.
Do not fill the windshield-washer fluid reservoir with washer fluid concentrates at full strength. Some methyl alcohol based washer fluid concentrates may permanently stain the grille if spilled while filling the windshield-washer fluid reservoir.
Pre-mix washer fluid concentrates with water to the manufacturer's recommended levels before pouring the fluid into the windshield-washer fluid reservoir. Do not use the windshieldwasher fluid reservoir to mix the washer fluid concentrate and water.