Nissan Murano: Driving the vehicle / Continuously Variable Transmission, CVT
WARNING
Do not depress the accelerator pedal while shifting from P (Park) or N (Neutral) to R (Reverse), D (Drive), or M (Manual shift mode). Always depress the brake pedal until shifting is completed. Failure to do so could cause you to lose control and have an accident.
Cold engine idle speed is high, so use caution when shifting into a forward or reverse gear before the engine has warmed up.
Do not downshift abruptly on slippery roads. This may cause a loss of control.
Never shift to either the P (Park) or R (Reverse) position while the vehicle is moving forward and P (Park) or D (Drive) position while the vehicle is reversing. This could cause an accident or damage the transmission.
CAUTION
To avoid possible damage to your vehicle, when stopping the vehicle on an uphill grade,donot hold the vehicle by depressing the accelerator pedal. The foot brake should be used for this purpose.
Except in an emergency, do not shift to the N (Neutral) position while driving. Coasting with the transmission in the N (Neutral) position may cause serious damage to the transmission.
The CVT in your vehicle is electronically controlled to produce maximum power and smooth operation.
The recommended operating procedures for this transmission are shown on the following pages. Follow these procedures for maximum vehicle performance and driving enjoyment.
Engine power may be automatically reduced to protect the CVT if the engine speed increases quickly when driving on slippery roads or while being tested on some dynamometers.
After starting the engine, fully depress the foot brake pedal before moving the shift lever out of the P (Park) position. This Continuously Variable Transmission is designed so that the foot brake pedal must be depressed before shifting fromP(Park) to any driving position while the ignition switch is in the ON position...
Other information:
Condition A When the radar sensor picks up interference from another radar source, making it impossible to detect a vehicle ahead, the I-FCW system is automatically turned off. The AEB system warning light (orange) will illuminate. Action to take When the above conditions no longer exist, the I-FCW system will resume automatically...
This type of hitch is also called a "loadleveling" or "equalizing" hitch. A set of bars attach to the ball mount and to the trailer to distribute the tongue weight (hitch weight) of your trailer. Many vehicles can't carry the full tongue weight of a given trailer, and need some of the tongue weight transferred through the frame and pushing down on the front wheels...
Categories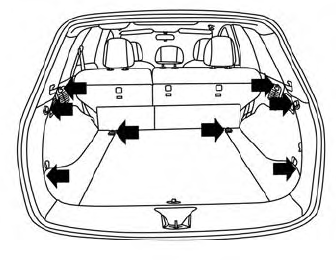 When securing items using luggage hooks located on the back of the seat or side finisher do not apply a load over more than 6.5 lbs. (29 N) to a single hook.
The luggage hooks that are located on the floor should have loads less than 110 lbs. (490 N) to a single hook.