Nissan Murano: Recommended fluids/lubricants and capacities / Air conditioner system refrigerant and oil recommendations
The air conditioner system in your NISSANvehiclemustbe charged with the refrigerant HFC-134a (R-134a) and NISSAN A/C System Oil Type ND-OIL8 or the exact equivalents.
CAUTION
The use of any other refrigerant or oil will cause severedamageto the air conditioning system and will require the replacement of all air conditioner system components.
The refrigerant HFC-134a (R-134a) in your NISSAN vehicle does not harm the earth's ozone layer. Although this refrigerant does not affect the earth's atmosphere, certain government regulations require the recovery and recycling of any refrigerant during automotive air conditioner system service. A NISSAN dealer has the trained technicians and equipment needed to recover and recycle your air conditioner system refrigerant.
It is recommended that you visit a NISSAN dealer when servicing your air conditioner system.
Selecting the correct oil It is essential to choose the correct grade, quality and viscosity engine oil to ensure satisfactory engine life and performance...
Other information:
WARNING The front passenger air bag and passenger knee air bag are designed to automatically turnOFFundersomeconditions. Read this section carefully to learn how it operates. Proper use of the seat, seat belt, and child restraints is necessary for most effective protection...
It is important to familiarize yourself with the following terms before loading your vehicle: Curb Weight (actual weight of your vehicle) - vehicle weight including: standard and optional equipment, fluids, emergency tools, and spare tire assembly...
Categories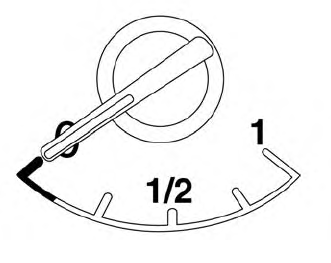 The gauge indicates the approximate fuel level in the tank.
The gauge may move slightly during braking, turning, acceleration, or going up or down hills.
The gauge needle returns to 0 (Empty) after the ignition switch is placed in the OFF position.