Nissan Murano: Technical and consumer information / When traveling or registering in another country
When planning to drive your NISSAN vehicle in another country, you should first find out if the fuel available is suitable for your vehicle's engine.
Using fuel with an octane rating that is too low may cause engine damage. All gasoline vehicles must be operated with unleaded gasoline. Therefore, avoid taking your vehicle to areas where appropriate fuel is not available.
When transferring the registration of your vehicle to another country, state, province or district, it may be necessary to modify the vehicle to meet local laws and regulations.
The laws and regulations for motor vehicle emission control and safety standards vary according to the country, state, province or district; therefore, vehicle specifications may differ.
When any vehicle is to be taken into another country, state, province or district and registered, its modifications, transportation and registration are the responsibility of the user. NISSAN is not responsible for any inconvenience that may result.
Other information:
Cargo area luggage hooks There are luggage hooks located in the cargo area as shown. The hooks can be used to secure cargo with ropes or other types of straps. When securing items using luggage hooks located on the side finisher do not apply a load overmore than 6...
WARNING Make sure that all passengers have their hands, etc., inside the vehicle while it is in motion and before closing the windows. Use the window lock switch to prevent unexpected use of the power windows. To help avoid risk of injury or death through unintended operation of the vehicle and/or its systems, including entrapment in windows or inadvertent door lock activation, do not leave children, people who require the assistance of others or pets unattended in your vehicle...
Categories
Driver's side
The knee air bag is located in the knee bolster, on the driver's and passenger's side. All of the information, cautions and warnings in this manual apply and must be followed. The knee air bag is designed to inflate in higher severity frontal collisions, although it may inflate if the forces in another type of collision are similar to those of a higher severity frontal impact. It may not inflate in certain collisions.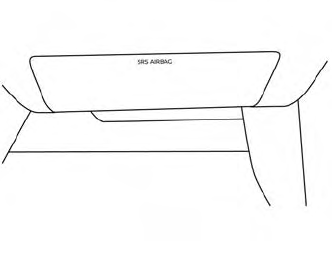 Passenger's side