Nissan Murano: Changing wheels and tires / Replacing wheels and tires
When replacing a tire, use the same size, tread design, speed rating and load carrying capacity as originally equipped. For additional information, refer to "Wheels and tires" in the "Technical and consumer information" section of this manual.
WARNING
The use of tires other than those recommended or the mixed use of tires of different brands, construction (bias, bias-belted or radial), or tread patterns can adversely affect the ride, braking, handling, VDC system, ground clearance, body-to-tire clearance, tire chain clearance, speedometer calibration, headlight aim and bumper height. Some of these effects may lead to accidents and could result in serious personal injury.
For 2WD models, if your vehicle was originally equipped with four tires that were the same size and you are only replacing two of the four tires, install the new tires on the rear axle. Placing new tires on the front axle may cause loss of vehicle control in some driving conditions and cause an accident and personal injury.
If the wheels are changed for any reason, always replace with wheels which have the same off-set dimension. Wheels of a different off-set could cause premature tire wear, degrade vehicle handling characteristics, affect the VDC system and/or interference with the brake discs. Such interference can lead to decreased braking efficiency and/or early brake pad wear. For additional information on wheel off-set dimensions, refer to "Wheels and tires" in the "Technical andconsumerinformation" section of this manual.
When replacing a wheel without the TPMS, such as the spare tire, the TPMS will not function and the low tire pressure warning light will flash for approximately 1 minute. The light will remain on after 1 minute. Have your tires replaced and/or TPMS system reset as soon as possible. It is recommendedthat you visit a NISSANdealer for this service.
Replacing tires with those not originally specified by NISSAN could affect the proper operation of the TPMS.
The TPMS sensor may be damaged if it is not handled correctly. Be careful when handling the TPMS sensor.
When replacing the TPMS sensor, the ID registration may be required. It is recommended that you visit a NISSAN dealer for ID registration.
Do not use a valve stem cap that is not specified by NISSAN. The valve stem cap may become stuck.
Be sure that the valve stem caps are correctly fitted. Otherwise the valve may be clogged up with dirt and cause a malfunction or loss of pressure.
Do not install a damaged or deformed wheel or tire even if it has been repaired. Such wheels or tires could have structural damage and could fail without warning.
The use of retread tires is not recommended.
For additional information regarding tires, refer to "Important Tire Safety Information" (US) or "Tire Safety Information" (Canada) in the Warranty Information Booklet.
Categories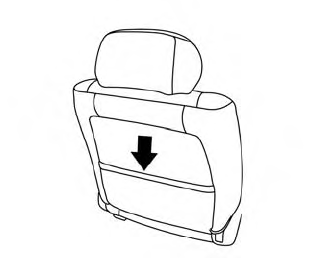 Theremaybe one or two seatback pockets located on the back of the driver and passenger seats. The pockets can be used to store maps.
WARNING
Copyright © 2023 www.nimurano.com