Nissan Murano: Moving Object Detection (MOD) (if so equipped) / MOD system operation
The MOD system will turn on automatically under the following conditions:
When the shift lever is in the R (Reverse) position.
When vehicle speed decreases below approximately 6 mph (10 km/h) and the camera screen is displayed.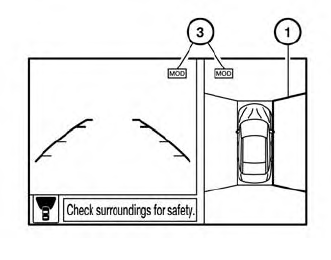 Front and bird's-eye views
The MOD system operates in the following conditions when the camera view is displayed: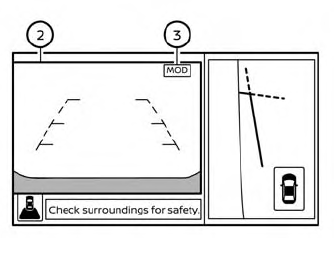 Rear and front-side views
The MOD system does not detect moving objects in the front-side view. The MOD icon is not displayed on the screen when in this view.
When theMODsystem detects moving objects near the vehicle, a chime will be heard and a yellow frame will be displayed on the view where the objects are detected. While the MOD system continues to detect moving objects, the yellow frame continues to be displayed.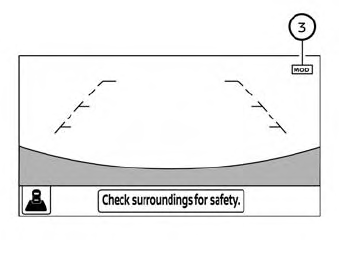 Full screen rear view
NOTE:
While the Rear Cross Traffic Alert chime (if so equipped) is beeping, the MOD system does not chime
In the bird's-eye view, the yellow frame
is displayed on each camera image (front, rear, right, left) depending on where moving objects are detected.
The yellow frame

is displayed on each view in the front view and rear view modes.
A blue MOD icon

is displayed in the view where the MOD system is operative. A gray MODicon is displayed in the view where the MOD system is not operative.
If the MOD system is turned off, the MOD icon
is not displayed.
Turning MOD on and off
To turn theMODsystem on or off, press and hold the CAMERA button for more than 2 seconds.
Categories
Driver's side
The knee air bag is located in the knee bolster, on the driver's and passenger's side. All of the information, cautions and warnings in this manual apply and must be followed. The knee air bag is designed to inflate in higher severity frontal collisions, although it may inflate if the forces in another type of collision are similar to those of a higher severity frontal impact. It may not inflate in certain collisions.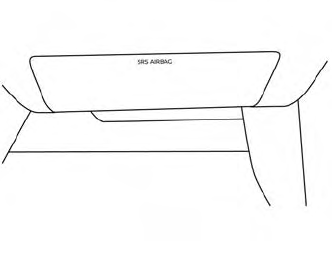 Passenger's side