Nissan Murano: Tire pressure / Checking tire pressure
Remove the valve stem cap from the tire.
Press the pressure gauge squarely onto the valve stem. Do not press too hard or force the valve stem sideways, or air will escape. If the hissing sound of air escaping from the tire is heard while checking the pressure, reposition the gauge to eliminate this leakage.
Remove the gauge.
Read the tire pressure on the gauge stem and compare to the specification shown on the Tire and Loading Information label.
Add air to the tire as needed. If too much air is added, press the core of the valve stem briefly with the tip of the gauge stem to release pressure. Recheck the pressure and add or release air as needed.
Install the valve stem cap.
Check the pressure of all other tires, including the spare.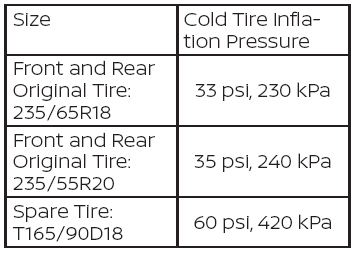 Seating capacity: The maximum number of occupants that can be seated in the vehicle. Tire size - refer to "Tire labeling" in this section. Cold tire pressure: Inflate the tires to this pressure when the tires are cold...
Example Federal law requires tire manufacturers to place standardized information on the sidewall of all tires. This information identifies and describes the fundamental characteristics of the tire and also provides the Tire Identification Number (TIN) for safety standard certification...
Other information:
This type of hitch is also called a "loadleveling" or "equalizing" hitch. A set of bars attach to the ball mount and to the trailer to distribute the tongue weight (hitch weight) of your trailer. Many vehicles can't carry the full tongue weight of a given trailer, and need some of the tongue weight transferred through the frame and pushing down on the front wheels...
..
Categories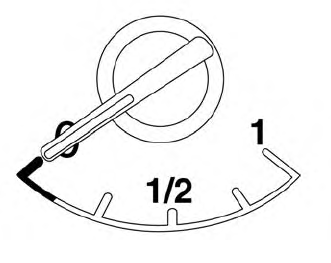 The gauge indicates the approximate fuel level in the tank.
The gauge may move slightly during braking, turning, acceleration, or going up or down hills.
The gauge needle returns to 0 (Empty) after the ignition switch is placed in the OFF position.
Copyright © 2022 www.nimurano.com