Nissan Murano: Changing a flat tire / Changing the spare tire with BOSE® sub-woofer (if so equipped)
To loosen the bolt, turn counterclockwise.

Once free, remove the bolt.
Place the sub-woofer in the lower left corner of the cargo area, leaning against the driver side wall.

Remove the spare tire.
Once the flat tire is exchanged with the spare tire, store the flat tire where the spare was located.

NOTE:

You may need to remove the wheel cap in order to secure the damaged tire using the spare tire clamp.

Place the sub-woofer inside the flat tire.
Turn the bolt clockwise to tighten and place the carpeted floorboard back over the tire.
Categories
Driver's side
The knee air bag is located in the knee bolster, on the driver's and passenger's side. All of the information, cautions and warnings in this manual apply and must be followed. The knee air bag is designed to inflate in higher severity frontal collisions, although it may inflate if the forces in another type of collision are similar to those of a higher severity frontal impact. It may not inflate in certain collisions.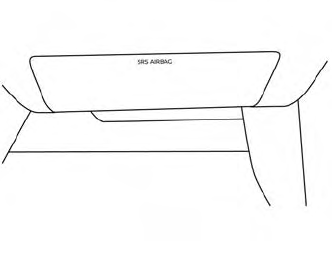 Passenger's side
Copyright © 2023 www.nimurano.com