Nissan Murano: Do-it-yourself / Air cleaner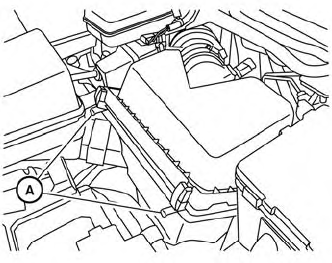 The air cleaner filter should not be cleaned and reused. Replace it according to the maintenance log shown in the "Maintenance and schedules" section of this manual.
To remove the air cleaner filter:
Unlatch the retaining clips .
Move the air cleaner cover upwards.
Remove the air cleaner filter. Wipe the inside of the air cleaner filter housing and the cover with a damp cloth, then replace air cleaner filter.
NOTE:
After installing a new air cleaner filter, make sure the air cleaner cover is seated in the housing and latch the clips.
WARNING
Operating the engine with the air cleaner removed can cause you or others to be burned. The air cleaner not only cleans the air, it stops the flame if the engine backfires. If it isn't there, and the engine backfires, you could be burned. Do not drive with the air cleaner removed, and be careful when working on the engine with the air cleaner removed.
Never pour fuel into the throttle body or attempt to start the engine with the air cleaner removed. Doing so could result in serious injury.
IN-CABIN MICROFILTER
The in-cabin microfilter restricts the entry of airborne dust and pollen particles and reduces some objectionable outside odors. The filter is located behind the glove box. For additional information, refer to the "Maintenance and schedules" section of this manual for change intervals. If replacement is required, it is recommended that you visit a NISSAN dealer for this service.
REPLACING SPARK PLUGS Iridium-tipped spark plugs It is not necessary to replace iridiumtipped spark plugs as frequently as conventional type spark plugs because they last much longer...
Other information:
Class I trailer hitch equipment (receiver, ball mount and hitch ball) can be used to tow trailers of a maximum weight of 2,000 lbs. (907 kg). Tire pressures When towing a trailer, inflate the vehicle tires to the recommended cold tire pressure indicated on the Tire and Loading Information label...
Your NISSAN vehicle is covered by the following emission warranties: For USA Emission Defects Warranty Emissions Performance Warranty Details of this warranty may be found with other vehicle warranties in your Warranty Information Booklet which comes with your NISSAN vehicle...
Categories
Driver's side
The knee air bag is located in the knee bolster, on the driver's and passenger's side. All of the information, cautions and warnings in this manual apply and must be followed. The knee air bag is designed to inflate in higher severity frontal collisions, although it may inflate if the forces in another type of collision are similar to those of a higher severity frontal impact. It may not inflate in certain collisions.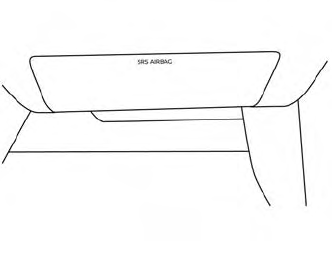 Passenger's side