Nissan Murano: NISSAN Advanced Air Bag System (front seats) / Status light
The front passenger seat is equipped with an occupant classification sensor (weight sensor) that turns the front passenger air bag and passenger knee air bag on or off depending on the weight applied to the front passenger seat. The status of the front passenger air bag and passenger knee air bag (ON or OFF) is indicated by the front passenger air bag status light

which is located on the instrument panel.
After the ignition switch is placed in the "ON" position, the front passenger air bag status light on the instrument panel illuminates for about 7 seconds and then turns off or remains illuminated depending on the front passenger seat occupied status. The light operates as follows:

In addition to the above, certain objects placed on the front passenger seat may also cause the light to operate as described above depending on their weight.
For additional information, refer to "Normal operation" and "Troubleshooting" in this section.
Categories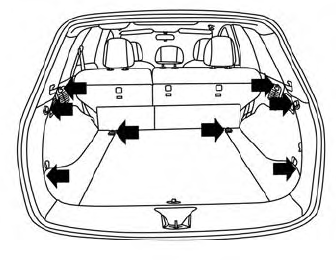 When securing items using luggage hooks located on the back of the seat or side finisher do not apply a load over more than 6.5 lbs. (29 N) to a single hook.
The luggage hooks that are located on the floor should have loads less than 110 lbs. (490 N) to a single hook.