Nissan Murano: Maximum load limits / Maximum trailer loads
Never allow the total trailer load to exceed the value specified in the "Towing Load/Specification" chart found in this section. The total trailer load equals trailer weight plus its cargo weight.
The maximum Gross Combined Weight Rating (GCWR) should not exceed the value specified in the following Towing Load/Specification Chart.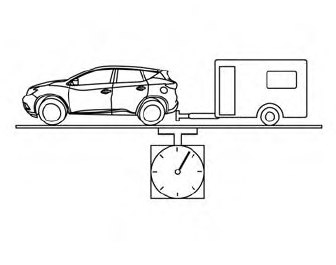 The GrossCombinedWeight Rating (GCWR) equals the combined weight of the towing vehicle (including passengers and cargo) plus the total trailer load. Towing loads greater than these or using improper towing equipment could adversely affect vehicle handling, braking and performance.
The ability of your vehicle to tow a trailer is not only related to the maximum trailer loads, but also the places you plan to tow. Tow weights appropriate for level highway driving may have to be reduced for low traction situations (for example, on slippery boat ramps).
Temperature conditions can also affect towing. For example, towing a heavy trailer in high outside temperatures on graded roads can affect engine performance and cause overheating. The engine protection mode, which helps reduce the chance of engine damage, could activate and automatically decrease engine power. Vehicle speed may decrease under high load. Plan your trip carefully to account for trailer and vehicle load, weather and road conditions.
WARNING
Overheating can result in reduced engine power and vehicle speed. The reduced speed may be lower than other traffic, which could increase the chance of a collision.Be especially careful when driving. If the vehicle cannot maintain a safe driving speed, pull to the side of the road in a safe area. Allow the engine to coolandreturn to normal operation.For additional information, refer to "If your vehicle overheats" in the "In case of emergency" section of this manual.
CAUTION
Vehicle damage resulting from improper towing procedures is not covered by NISSAN warranties.
When using a weight carrying or a weight distributing hitch, keep the tongue load between 10 - 15% of the total trailer load or use the trailer tongue load specified by the trailer manufacturer...
Other information:
WARNING The front passenger air bag and passenger knee air bag are designed to automatically turnOFFundersomeconditions. Read this section carefully to learn how it operates. Proper use of the seat, seat belt, and child restraints is necessary for most effective protection...
Utility vehicles have a significantly higher rollover rate than other types of vehicles. They have higher ground clearance than passenger cars to make them capable of performing in a variety of on-pavement and off-road applications. This gives them a higher center of gravity than ordinary vehicles...
Categories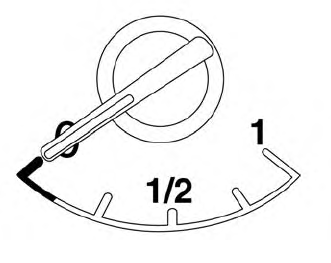 The gauge indicates the approximate fuel level in the tank.
The gauge may move slightly during braking, turning, acceleration, or going up or down hills.
The gauge needle returns to 0 (Empty) after the ignition switch is placed in the OFF position.