Nissan Murano: Cold weather driving / Tire equipment
SUMMER tires have a tread designed to provide superior performance on dry pavement. However, the performance of these tires will be substantially reduced in snowy and icy conditions. If you operate your vehicle on snowy or icy roads, NISSAN recommends the use of MUD & SNOW or ALL SEASON TIRES on all four wheels. It is recommended that you visit a NISSAN dealer for the tire type, size, speed rating and availability information.
For additional traction on icy roads, studded tires may be used. However, some U.S. states and Canadian provinces prohibit their use. Check local, state and provincial laws before installing studded tires.

Skid and traction capabilities of studded snow tires on wet or dry surfacesmaybe poorer than that of non-studded snow tires.

Tire chains may be used. For additional information, refer to "Tire chains" in the "Do-it-yourself" section of this manual.
Categories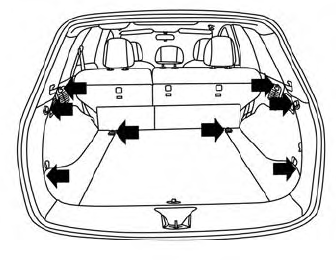 When securing items using luggage hooks located on the back of the seat or side finisher do not apply a load over more than 6.5 lbs. (29 N) to a single hook.
The luggage hooks that are located on the floor should have loads less than 110 lbs. (490 N) to a single hook.
Copyright © 2023 www.nimurano.com