Nissan Murano: Cold weather driving / Engine block heater (if so equipped)
Engine block heaters are used to assist with cold temperature starting.
The engine block heater should be used when the outside temperature is 20°F (-7°C) or lower.
WARNING
Do not use your engine block heater with an ungrounded electrical system or a 2-pronged adapter. You can be seriously injured by an electrical shock if you use an ungrounded connection.
Disconnect and properly store the engine block heater cord before starting the engine. Damage to the cord could result in an electrical shock and can cause serious injury.
Use a heavy-duty 3-wire, 3-prongedextension cord rated for at least 10 A. Plug the extension cord into a Ground Fault Interrupt (GFI) protected, grounded 110-VACoutlet.Failure to use the proper extension cord or a grounded outlet can result in a fire or electrical shock and cause serious personal injury.
To use the engine block heater:
Turn the engine off.
Open the hood and unwrap the engine block heater cord.
Plug the engine block heater cord into a grounded 3-wire, 3-pronged extension cord.
Plug the extension cord into a Ground Fault Interrupt (GFI) protected, grounded 110-volt AC (VAC) outlet.
The engine block heater must be plugged in for at least 2 to 4 hours, depending on outside temperatures, to properly warm the engine coolant. Use an appropriate timer to turn the engine block heater on.
Before starting the engine, unplug and properly store the cord to keep it away from moving parts.
WARNING Wet ice (32°F, 0°C and freezing rain), very cold snow or ice can be slick and very hard to drive on. The vehicle will have much less traction or "grip" under these conditions...
Other information:
RAB system warning light and RAB system warning indicator Steering-wheel-mounted controls (left side) Center display (if so equipped) When the shift lever is in the R (Reverse) position and the vehicle speed is less than approximately 9 mph (15 km/h), the RAB system operates...
To start your engine with a booster battery, the instructions and precautions below must be followed. WARNING If done incorrectly, jump starting can lead to a battery explosion, resulting in severe injury or death. It could also damage your vehicle...
Categories
Driver's side
The knee air bag is located in the knee bolster, on the driver's and passenger's side. All of the information, cautions and warnings in this manual apply and must be followed. The knee air bag is designed to inflate in higher severity frontal collisions, although it may inflate if the forces in another type of collision are similar to those of a higher severity frontal impact. It may not inflate in certain collisions.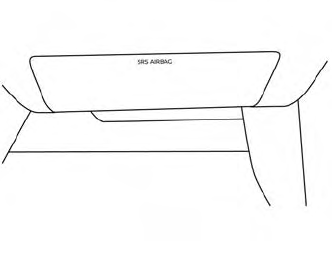 Passenger's side