Nissan Murano: Changing a flat tire / Installing the spare tire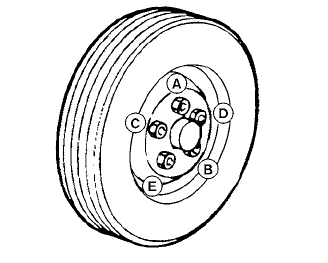 The spare tire is designed for emergency use. For additional information, refer to "Wheels and tires" in the "Do-it-yourself" section of this manual.
Clean any mud or dirt from the surface between the wheel and hub.
Carefully put the spare tire on and tighten the wheel nuts finger tight.
With the wheel nut wrench, tighten wheel nuts alternately and evenly in the sequence illustrated ( , , , , ) until they are tight.
Lower the vehicle slowly until the tire touches the ground. Then, with the wheel nut wrench, tighten the wheel nuts securely in the sequence illustrated ( , , , , ). Lower the vehicle completely.
Securely store the jack and tools back in their storage compartment. Ensure the jack is expanded and tools snapped into place to prevent rattle noise from happening while driving.
WARNING
Incorrect wheel nuts or improperly tightened wheel nuts can cause the wheel to become loose or come off. This could cause an accident.
Do not use oil or grease on the wheel studs or nuts. This could cause the nuts to become loose.
Retighten the wheel nuts when the vehicle has been driven for 621 miles (1,000 km) (also in cases of a flat tire, etc.).
As soon as possible, tighten the wheel nuts to the specified torque with a torque wrench.
Wheel nut tightening torque:
83 ft-lb (113 N·m)
The wheel nuts must be kept tightened to specification at all times. It is recommended that wheel nuts be tightened to specifications at each lubrication interval.
Adjust tire pressure to the COLD pressure. COLD pressure: After vehicle has been parked for 3 hours or more or driven less than 1 mile (1.6 km).
COLD tire pressures are shown on the tire and loading information label affixed to the driver side center pillar.